Welcome beautiful people,
I hope you had a fabulous week & Happy Monday! I just want to give a huge thank you to all my subscribers who help me make this content possible. Seeing that about 50% of subscribers read my content on a weekly basis is a huge motivator. 🎉
This week is all about making the best of Kubernetes, from getting started with managed Kubernetes clusters to scaling your applications with Terraform.
Enjoy 😊
Open Source Project Highlight 📸
Pyrra: Making SLOs with Prometheus manageable, accessible, and easy to use for everyone! Have a look at the demo: https://demo.pyrra.dev/
Maintainers: Matthias and Nadine
DevOps👩🏽‍🔧
SRE 📊 today all on Terraform
Talks 🎞️
Sticky-Content 📌
Remember, if you want to support my work and receive exclusive content, you can sign-up for my paid subscription on my Blog ♥️
Tweet of the week 🐦
This week's tweet of the week is by Ian Miell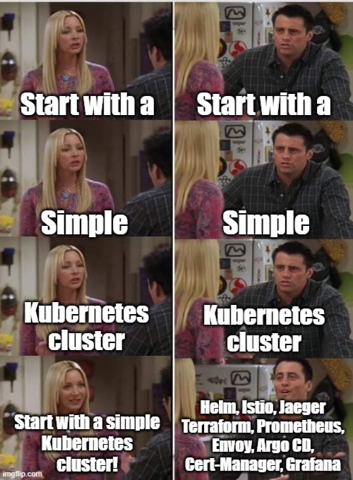 Sharing is Caring 🤗
If you are enjoying my weekly newsletters, share what you liked on your social media channels to make sure other amazing people come across my content, too.I highly appreciate your support 🥳
If you have content that you would like to have highlighted in one of my next newsletters, please do reach out and I would love to feature your work.
This is it for today, until next time 👋🏻